Labor Day 2016
Posted On: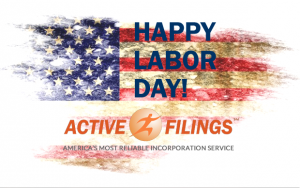 Dania Beach, FL, September 5, 2016. Active Filings offices will be closed on September 5 2015 in observance of Labor Day.
Labor Day is the day to honor the hard working and dedicated Americans and the last day to enjoy summer. Enjoy the extended weekend and stay safe.
Happy Labor Day wishes from the ActiveFilings' team!
Normal work hours will resume on Tuesday 8 at at 9.00 A.M. EDT.