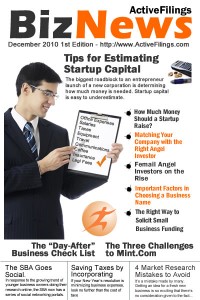 According to the United States Small Business Association, 50% of startups fail within the first five years. That means that if your business is less than five years old, you run a one in two chance of losing everything you've invested in your business. It's like flipping a coin to determine your future. There must be a way to increase your odds of success.
For decades, studies have proven the overwhelming reason for this high failure rate: New entrepreneurs have more passion than knowledge and they don't spend enough time reading everything they can find on the subject of small business growth.
Every successful business owner spends an extraordinary amount of time reading every book and article that they can about business growth.
At ActiveFilings, we've been committed to helping new business owners for years. Every day we publish new articles with the new business owner in mind and now we're proud to announce BizNews. BizNews is for the business owner who is serious about success. It's for the business owner who is hungry for all of the business knowledge they can get.
BizNews is committed to providing our readers the latest news from the Secretaries of State of all 50 States and Washington DC covering topics such as deadlines to file annual reports, reporting duties, changes in the state legislation and state developments.
Lack of knowledge can cost your business money and we want to make sure that doesn't happen to you.
We also cover topics like federal legislation, taxes, and regulations affecting small and micro businesses. If that isn't enough, we will cover the latest news about investors, venture capital, angel investors, and many other topics that are relevant to your professional growth as a business owner.
What is going to keep you from being one of the 50% of small business owners who fail? Knowledge! At ActiveFilings, we've been where you are and we know what you need to not just survive, but thrive.
Don't wait! Sign up for BizNews today.
BizNews will dramatically increase your odds of success. We guarantee it!
Publisher:
ActiveFilings LLC
Editor:
Roberto Neuberger
Journalists:
Tim Parker – Regional News, State legislation related to small and micro business
Brian Huber – Legislation, Regulations, Investments, Venture Capitals
Mark Perry – Business Credit, Trends, Taxation
For contact information please click here.